Lee Taylor (Pastor)
Lee Taylor is serving as the KBF Pastor of Family Ministries. He has lived in Tokyo for about ten years with his wife and two children (11 and 8 years old). He has a Graduate Diploma in Theology from the University of Divinity in Australia which includes units on the nurture and spiritual guidance of children. He can be contacted on ltaylor@kbf.or.jp

Esther Motts (Pastor)
I serve at KBF as one of the three pastors. I have been in church ministries for over 20 years. I love what I do. It has been a privilege to work at KBF with our amazing church team members who come from various countries and backgrounds. I love belonging to a place where God works in people's lives. It truly is a wonderful experience to see people come together with a heart of worship and thanksgiving.
I, myself, am a third culture kid. I have in me, both the Jamaican "ya mon, evryting irie" and the Japanese "show up 5 mins before time" culture, along with what comes as original. I love to be around people and share what goes on in life. I have been married to my best friend for over 10 years. He is my lovely bookworm and encyclopedia. We have one amazing, perfect daughter. Some other things I like include going out with friends, having deep conversations over coffee (especially theology), opening the car bonnet to try things out, creating different flavours with spices, enjoying the reggae beat, munching on KFC at the beach, and chocolate!
Feel free to contact me at emotts@kbf.or.jp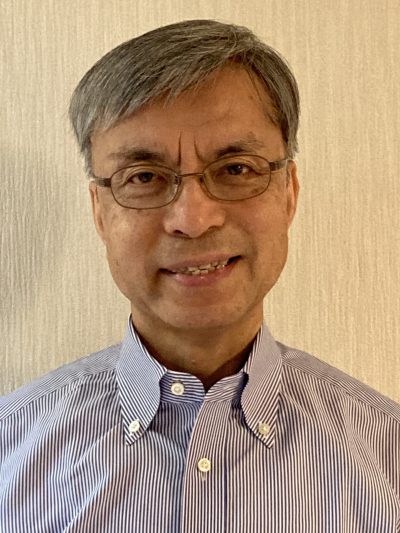 Ryuichi Okayasu (Pastor)
Ryuichi Okayasu is serving as Interim Pastor at KBF. He was born in Tokyo in a typical Japanese family and had very little exposure to Christianity until he went to the US for his graduate study in Oregon. He became a Christian in Oregon in his late twenties and has never regretted his decision. Ryuichi worked as a cancer researcher for over 30 years and met his wife Martha in Colorado. They have two adult children and one grandson.
Upon retirement from a research institute in Chiba, he started an online Japanese seminary and completed the Pastoral Ministry program in 2019. He has served KBF in various capacities since 2002 including council member, Sunday school/small group leader, translator, among others. He appreciates KBF's diverse congregation and loves connecting with people. He loves classical and jazz music; JS Bach is his favorite composer.
He can be contacted at rokayasu@kbf.or.jp